FPGA Development Boards for Under $150
In the dynamic world of FPGA design, breaking the bank shouldn't be a prerequisite to diving into hands-on experimentation and learning. Fortunately, a plethora of FPGA development boards have emerged that are not only feature-rich, but also surprisingly affordable. For budding enthusiasts, students, or even seasoned developers on a budget, boards priced at $150 or less offer an incredible gateway into the intricate realm of digital design. In this blog post, we'll explore some of the most noteworthy and cost-effective FPGA boards on the market, ensuring that your journey into the FPGA universe is both enriching and wallet-friendly. Join us as we delve into the world of affordable FPGA development boards!
Publisher's Note: if you choose to purchase one of these boards, we would really appreciate it if you purchased using one of the links below. FPGAjobs earns a commission if you purchase through one of those links, which, in turn, helps support the site and its ongoing operation. Thanks a bunch!
The Sub-$100 Contenders
Many of our top picks for FPGA boards are well under $100. Here's four you can consider as a home development platform for RTL design.
Lattice iCEstick
The Lattice iCEstick FPGA development board stands out as a compact and user-friendly platform tailored for both hobbyists and professionals venturing into digital design. At the heart of this board lies the Lattice iCE40 FPGA, which offers a versatile environment for a myriad of applications. A significant advantage of the iCEstick is its compatibility with the YoSys open-source FPGA toolchain, allowing developers to leverage a powerful, community-driven suite of tools for synthesis and design exploration. (Unfortunately, that also makes these boards quite popular - and, as a result, hard to get a hold of at times!) This broadens the possibilities for innovation and experimentation: instead of being confined to a hardware description language, you can program your iCEstick's FPGA in Python! Outfitted with an onboard USB programmer, user LEDs, and connectors for external components, and bundled into a USB flash drive form factor, the iCEstick provides a holistic development experience, making FPGA design more accessible and streamlined for all.
Price: $58.62
TinyFPGA BX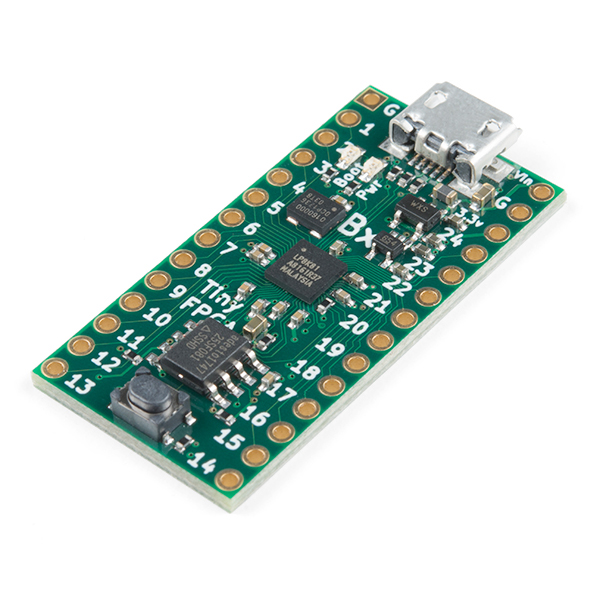 The TinyFPGA BX development board is a compact yet powerful platform crafted for hobbyists, educators, and professionals eager to explore the realm of FPGA-based projects. Underpinning this diminutive board is the Lattice iCE40 FPGA, which provides a flexible environment conducive to a range of digital designs. What sets the TinyFPGA BX apart is its emphasis on simplicity and accessibility. It features an onboard USB interface, eliminating the need for external programming tools and ensuring a hassle-free setup. Moreover, its compatibility with open-source toolchains like nextpnr and YoSys enables a community-driven approach to design and development. A standout feature of the TinyFPGA BX is its breadboard-compatible form factor, allowing for easy integration into prototyping environments and facilitating hands-on experimentation.
Price: $49.00
Click Here to buy from CrowdSupply
NANDLand Go Board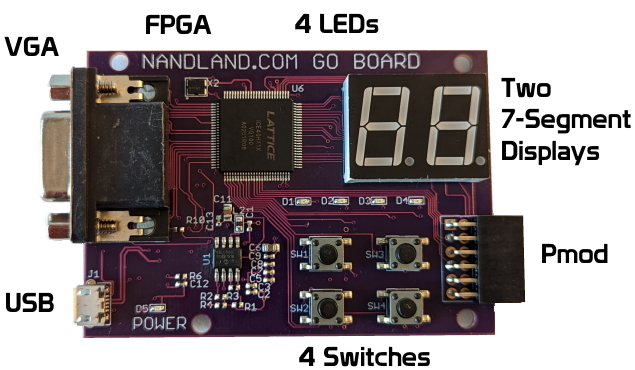 The NANDLand Go Board is an FPGA development board tailored for beginners eager to dive into the realm of digital design. Centered around the Lattice ICE40 HX1K FPGA, the Go Board offers a balanced combination of simplicity and capability, making it an ideal choice for those embarking on their first FPGA journey. One of its standout features is the onboard programmer, eliminating the need for external programming devices and ensuring a smooth user experience. In addition to this, the board is equipped with essential components such as LEDs, push-buttons, and GPIO pins, which facilitate a wide array of beginner to intermediate projects. The Go Board's affordability, paired with a supportive online community and a range of tutorials available on NANDLand's website, ensures that anyone will have the resources they need to kickstart their FPGA adventures.
Price: $70.00
Click Here to buy from NANDLand
Digilent Cmod S7
The Digilent Cmod S7 FPGA board is a compact and feature-rich platform, tailor-made for enthusiasts and professionals venturing into FPGA-based digital designs. At its core, the board is powered by the Xilinx Spartan-7 FPGA, striking a balance between high performance and efficient power consumption. A standout feature of the Cmod S7 is its inclusion of a PMOD connector, allowing users to seamlessly integrate a myriad of modular components and expand the board's capabilities. Despite its diminutive size, it also offers an extensive set of I/O pins for versatile interfacing. With a design that's breadboard-compatible, it effortlessly fits into diverse prototyping scenarios. Digilent's dedication to fostering a supportive community and providing robust documentation further amplifies the appeal of the Cmod S7, making it a top choice for both FPGA newcomers and seasoned developers in search of a dynamic, yet compact development tool.
Price: $99.00 - 137.61
Lattice iCE40UP5K-B-EVN
The Lattice ICE40UP5K-B-EVN evaluation board serves as a pivotal tool for developers keen on exploring the capabilities of the ICE40 UltraPlus FPGA. Designed by Lattice Semiconductor, this board harnesses the power of the ICE40UP5K FPGA, renowned for its low power consumption and high functionality. One of its salient features is its rich array of I/O options and onboard resources, allowing for a comprehensive development and testing environment. Additionally, the board's layout is meticulously crafted to facilitate easy interfacing with various peripherals, ensuring a seamless design experience. Backed by Lattice's robust software tools and extensive documentation, the ICE40UP5K-B-EVN stands out as an invaluable asset for both beginners looking to understand FPGA intricacies and seasoned professionals aiming for advanced experimentation and prototyping. This is a great choice if you're interested in designing a board that needs a very, very small footprint FPGA - the iCE40UP5K is one of the only FPGAs out there with a WLCSP-30 footprint!
Price: $64.28
For a Few Dollars More
We originally wanted this post to be about FPGA boards that were $100 or less, but upon some research, it became clear that a few important options to consider in the $100 to $150 range. Here's a few boards you may want to consider if you can spare another $50 in your search for an FPGA evaluation board.
Terasic DE0-Nano
If you are dead set on your development platform running Intel silicon, then the Terasic DE0-Nano is for you. The DE0-Nano FPGA board is a compact and user-friendly platform designed to provide students, hobbyists, and FPGA enthusiasts with a cost-effective introduction to digital logic and hardware design. Built around Altera's Cyclone IV E FPGA, the DE0-Nano offers a rich set of features that make it suitable for a wide range of applications, from simple educational projects to more advanced prototyping. The board is equipped with a plethora of I/O options, including GPIO headers, an accelerometer, LEDs, and buttons. Its lightweight nature and onboard USB-Blaster for programming and debugging make it especially convenient for on-the-go development. Accompanied by robust documentation and a supportive community, the DE0-Nano stands as a popular choice for those diving into the world of FPGAs.
Price: $117.26
Digilent Arty S7
The Arty S7 FPGA development board is a modern and adaptable platform tailored for designers and enthusiasts eager to delve into FPGA-centric digital projects. At its core, the Xilinx Spartan-7 FPGA powers the board, offering a harmonious blend of performance and energy efficiency, suitable for diverse applications from embedded systems to intricate digital signal processing. One of the standout features of the Arty S7 is its compatibility with both Arduino shields and PMOD evaluation boards, allowing developers to seamlessly integrate a wide array of modules and expand functionality. Additionally, the board comes equipped with DDR3 memory, a USB-UART bridge, and an expansive set of I/O connectors. The seamless integration with the Vivado Design Suite further enhances the development experience, facilitating efficient hardware synthesis and debugging. Given its multifaceted compatibility and robust support resources, the Arty S7 emerges as a top-tier choice for FPGA enthusiasts.
Price: $119.00
Click Here to buy from Digilent
Digilent Cora Z7
The Digilent Cora Z7 development board stands out as a dual-purpose platform meticulously crafted for both FPGA design and embedded Linux development. At its heart is the Xilinx Zynq-7000 series SoC, a powerhouse that seamlessly marries ARM Cortex processors with programmable logic, facilitating a unique environment where software programmability intersects with hardware optimization. This versatility ensures that the Cora Z7 caters to a broad spectrum of developers, from those focused on FPGA-centric projects to those diving into the nuances of embedded Linux applications. In addition to its core capabilities, the board is replete with features such as DDR3 memory and an array of I/O options. Digilent's commitment to creating user-friendly tools further enhances the Cora Z7's appeal, positioning it as an invaluable asset for both newcomers and seasoned professionals in the realms of FPGA and embedded Linux development.
Price: $149.00